Home
Welcome to the Bradford Railway circle website.
Traffic Notice
Bradford Railway Circle Meetings. Please note we will not have access to the meeting room until after 7:10pm, to allow for the previous occupant to clear up after they finish at 7:00pm. The meeting start time remains unchanged at 7:30pm. If you happen to arrive before 7:10pm please will you wait in the carpark or in the hallway.
Thank you
The next Transport themed meeting will be on:- Wednesday 31st January. When we welcome: -Steve Batty with "Fire up the Pentax"
(Talks are held fortnighly, All welcome £3 non members)
Bradford Railway Circle was founded in 1945 after a Bradford gentleman put an advert in the Telegraph and Argus and as of 2017 we have approximately 100 members.
In 2015 we celebrated 70 years with a dinner on the KWVR (see Gallery).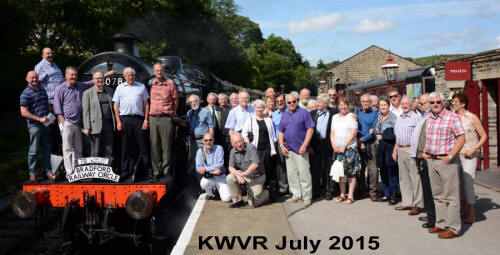 News

2015
A selection of pictures from the Circle dinner on the KWVR summer 2015 added to gallery page

The 2016 diary added to the diary page. A pdf copy can be downloaded from the downloads page.
To celebrate our 70 years of existence the Circle held a Members' Sunday Lunch trip on the KWVR on 12th July 2015.