History
Bradford Railway map 1905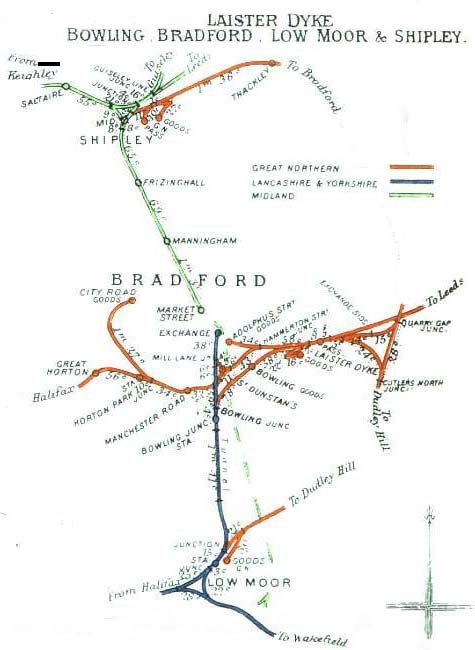 Brief chronology of Bradford railways
1846 Leeds and Bradford Railway (Via Shipley) later became part of the Midland Railway. It terminated at a station on Kirkgate, opposite the end of Market Street. This was replaced in 1890 by a bigger station called Market Street (renamed Forster Square in 1924).
1850 The L and Y railway from Halifax via Low Moor terminated at Drake Street, later to become Bradford Exchange.
1854 The GNR Leeds - Bradford route via Stanningley opened terminating in a new Station called Adolphus Street Station some distance from the centre.
1854 the GNR direct Laisterdyke - Bowling Junction line opened for Leeds - Halifax direct trains. 1867 Drake Street was enlarged to became a shared L and Y / GNR station (Bradford Exchange) and a steeply graded line opened to allow GNR trains from Leeds direct into Bradford Exchange. Adolphus Station became goods only.
1856 LBHJR (GNE from 1865) Laisterdyke - Dudley Hill - Low Moor Closed passengers 1966
1857 LBHJR (GNE from 1865) Laisterdyke - Dudley Hill – Ardsley (Spen Valley line0 Closed passengers 1966
1875 GNR Laiserdyke Shipley GN via Thackley Closed Passengers 1931
1893 GNR Laisterdyke/Dudley Hill - Leeds via Pudsey Closed passengers 1964
1878 GNR Bradford - Horton Park - Queensbury (Queensbury Lines) Closed Passengers 1955
1878 GNR Horton Park – City Road Goods Closed 1972
KDJ Nov 2014
www.bradfordrailwaycircle.co.uk