Circle Diary
Meetings are held at
Sedbergh Comunity centre Huddersfield Road, Odsal, BRADFORD BD6 1DJ
(Next entrance past the Fire Station. Parking limited)
Please note, we will not have access to the meeting room until after 7:10pm to allow for the previous occupant to clear up after they finish at 7:00pm. The meeting start time remains unchanged at 7:30pm. If you happen to arrive before 7:10 please will you wait in the car park or in the hallway - we actually hire the room from 7;30 and do not wish to do anything which may result in the loss of the "goodwill" early access. Thank you.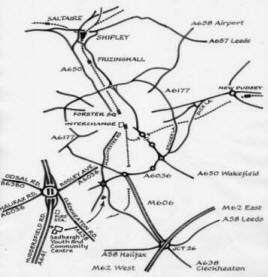 | | | |
| --- | --- | --- |
| Jan 3rd | Crewe to Carlisle Return | Steve Fort |
| Jan 17th | 40 years back | John Holroyd |
| Jan 31st | Fire up the Pentax | Steve Batty |
| Feb 14th | Cold Wednesdays The Restoration of the Last Leeds Horse Tram | Jamie Guest |
| Feb 28th | A selection of Scanned Slides | John Whiteley |
| Mar 14th | Bradford City Transport in the 1960s | Ian Dougill |
| Mar 28th | Update on the transformation of the Railways of the North | Stuart Baker |
| Apr 11th | Railways of the Jungfrau Region | Robert Clarke |
| Apr 25th | Mixture No4 | Dorothy Burrows |
| May 9th | LB&SCR to the Seaside in West Sussex | Rev Tony Newnham |
| May 23rd | Railways & Tramways of the Yorkshire Dales Quarries And Mines (Part 2) | Stewart Liles |
| Jun 6th | 1980 | Robin Lush |
| Jun 20th | The LMS Jubilee 4-6-0 A Celebration of "Second Rank" Power! Dave Peel | |
| Jul 4th | Railways around the Midlands in the 1970s | John Bromfield |
| Jul 18th | Normanton, Crewe of the Coalfields | Allan Dawson |
| Aug 1st | The Cromford & High Peak Railway | John Evans |
| Aug 15th | Looking Back | Bill Jagger |
| Aug 29th | Railway Travels | David Wilkinson |
| Sep 12th | Sixty Years of Mystery Colour | Gavin Morrison |
| Sep 26th | BR Class 91 | Paul Corrie |
| Oct 10th | Irish Railways Today | Julian Halstead |
| Oct 24th | TBA | Jim Livesey |
| Nov 7th | Photography Competition | Tom Ickringill |
| Nov 21st | 50 Years Back | John Holroyd |
| Dec 5th | 73rd AGM followed by Members Night | |
| Dec 19th | African Travels Of Wadey | Eddie Lumb |
2017
Jan 4th
My Australasian Trip
Keith Preston
Jan 18th
West Highland Sleeper
Julian Halstead
Feb 1st
What Might Have Been?
Jamie Guest
Feb. 15th
"Sir Thomas Bouch - Hero? Villain? Or Bad PR?
Bill Jagger
Mar.1st
Vintage Trip from South to West Yorkshire.
Dr Les Nixon
Mar. 15th
70s and 80s A Bit of This and a bit of That.
Paul Corrie
Mar 29th
Here and There
Dorothy Burrows
Apr 12th
A Railway Quiz.
John Holroyd
Apr 26th
Australia
Chris Taylor
May 10th
Great Northern Outposts vol. 2 The Halifax Thornton & Keighley Railway
Jan Rapacz and Alan Whitaker
May 24th
Railways - Social History and the Rural Railway.
Rob Shorland Ball
Jun 7th
Welsh Steam in the 1950s
John Carter
Jun 21st
Modernisation Plan, Diesels at Work
Howard Bolton
Jul 5th
1986 BR and Preserved Railways
John Bromfield
Jul 19th
Railways of the Great War
Colin Hatton
Aug 2nd
Yorksksire Dales Quarry Railways and Tramways
Stuart Liles
Aug 16th
Digital Images from outside Britain 2013 - 2017
Peter Holden
Aug 30th
Members Night -

when you are all invited to bring something to entertain / interest us. Suggestions are digital images, slides, photo prints, railway relics and ephemera or a brief talk. Presentations can be any length but with a minimum of 30 seconds and a maximum of 10 minutes please. Relics and ephemera can be put out on the tables but as ever are at your own risk.

Sep 13th
"Run VT un-edited
Jim Bennett
Sep 27th
Yorkshire, USA & SA
Mike Swift
Oct 11th
Forty & Fifty Years Back
John Holroyd
Oct 25th
Excursions from Bradford
Roger Hepworth
Nov 8th
Mind the Gap. (London Underground)
Jason Cross
Nov 22nd
Train Songs
Spencer Vine
Dec 6th
72nd AGM, followered by Members Night.
Dec 20th
Looking Back.
Bill Jagger
2016
Jan 6th
Aire Valley Rail User's Group
Keith Preston
Jan 20th
BR Blue.
Julian Halstead
Feb 3rd.
A Railway Quiz
Peter Holden
Feb. 17th.
The Class 40 Preservation Society.
Martin Butterworth
Mar.2nd.
The Middleton Railway.
Ian Dobson
Mar.16th.
The First Five Years of Digital Photography.
Alan Ward
Mar.30th.
A Continental Compilation.
John Holroyd
Apr. 13th.
Decapods, Giesls and Albatross.
Stuart Lindsey
Apr. 27th.
The years of 2008 & 2009'What I Photographed
Robin Patrick
May. 11th.
A History of Eastleigh Locomotive Works.
Colin Boocock
May 25th.
The Deltic Preservation Society.
Richard Walsh
Jun 8th.
From ICI to BRB Chairman- 42 years on the Railway.
(But NOT Beeching!)
Stuart Baker,
Jun 22nd.
Scottish Railway Miscellany 1978-1981.
John Bromfield
Jul 6th.
Tourist Trains of Ecuador & Peru.
David Peel
Jul. 20th.
Looking Back I Enjoyed It.
Bill Jagger
Aug.3rd.
Great Northern Outposts Volume 1
Alan Whitaker and Jan Rapacz
Aug.17th.
Pioneer Line, Midland 1907 Electrification to Morecambe
Jamie Guest
Aug 31th.
A Swiss Mixture.
Philip Lockwood
Sep.14th.
RCTS Railtours from the late 1950's to the present day
Gavin Morrison
Sep 28th
Steaming Around the UK.
David Tillotson
Oct 12th.
Run VT (unedited)
Jim Bennett
Oct.26th.
Forty & Fifty Years Back.
John Holroyd
Nov.9th.
Photography Competition.
Tom Ickringill
Nov.23rd.
London Underground.
David Wilkinson
Dec 7th.
71st AGM, followed by Member's Night.
Dec. 21st
Wandering with Wadey
Eddie Lumb
Previous Archive
2015
Jan.7th Big 4 Steam to BR Steam by John Whiteley
Jan 21st CANCELED DUE TO SNOW rescheduled for Feb 4th
Feb 4th Recent European Travels by John Holroyd
Was Mixture number 2 by Dorothy Burrows
Feb 18th North America Revisited by Chris Davis
March 4th Modern Traction in Recent Years by Steve Batty
March 18th More Ramblings From An Ex Signalman by Dave Scriven
April 1st 1990s Part 3 by Peter Holden
April 15th Wadey's Wanderings by Eddie Lumb
Apr. 29th The Route of the Master Cutler by Ken Granger
May.13th Northern Rail by Pete Myers
May 27th.UK mainline Steam (digital) by Ben Collier
Jun 10th. German and Austrian Steam 1969 by Noel Coates
Jun 24th.The Grassington Branch by Peter Huff
Jul 8th. Grand Central by Sean English
Replaced by Dorothy Burrows
Jul 22nd. Tramways of Leeds by Ian Dougill
Aug 5th.Outside Visit
Aug 19th Lost Lines to Nottingham by Simon Swain (Replaced by Peter Holden Night pictures)
Sep.2nd Steam In and Around York by Chris Nettleton.
Sep.16th Ravensthorpe Story of a Station by Mike Swift
Sep.30th The Robert Whitfield Show, UK steam 1948-1958'. Peter Berry.
Oct 14th. Still On Film, Another 200 to View Paul Corrie
Oct.28th. 40 Years Back John Holroyd
Nov.11th. Steam and Diesel in the West Riding Jim Livesey
Nov 25th. "Around Britain by Rail" presented by John Holroyd. Dec 9th. AGM, followed by Member's Night
Dec 23rd. Monsoon Tours Faces & Places Philip Lockwood
2014
Jan.8th. Colour Rail Slides 1950s 1960s. Keith Preston
Jan 22nd. A Potpourri of all Gauges. John Holroyd
Feb 5th. Another Brighton Byway. Tony Newnham
Feb. 19th. The Railways of Nidderdale. Chris Henderson
Mar.5th. What Are Railways For? Rob Shorland-Ball
Mar. 19th. Do You Remember? Dorothy Burrows
Apr. 2nd. Mainline Steam UK and Overseas. Dave Collier
Apr. 16th. Railways Behind The Scenes. Paul Bigland
Apr.30th. Uphill All The Way, The Snowdon Mountain Rly. Geoff Queen
LAST AT HEATON MEETING FROM HERE ON AT SEDBERGH COMMUNITY CENTRE
May14th. A Northerner Down South Part 2. David Peel
May 28th. 1975 Robin Lush
Jun 11th. The A1 Steam Locomotive Trust. Alexa Stott
Jun 25th. Old Flames – memories of a Low Moor fireman Granville Dobson (NB Change of speaker)
Jul 9th. Dave Scriven's Rambles. Himself
Jul. 23rd. 5 Thousand Miles in Search of a Tram to Roundhay. Jamie Guest
Aug.6th. The Streamlined Trains and Mallard's Record Run. Chris Nettleton
Aug.20th. It's All About Us.Eddie Lumb
Sep.3rd. Outdoor Meeting
Sep.17th. Steam Everywhere – Everywhere Steam. David Tillotson.
Oct.1st. Trans Pennine and Northern England Modernisation and Electrification Stuart Baker
Oct 15th. Trains Across India. Colin Boocock
Oct.29th. Photography Competition. Tom Ickringill
Nov.12th. Thirty and Forty Years Back. John Holroyd
Nov.26th. 45 Years of Railway Photography Part 3. Les Nixon.
Dec 10th. 69th AGM, followed by Members Night;